I offer a painting and decorating service in Stockport, Cheshire.
General decorating
I create bespoke solutions for every client – there's no 'one size fits all'. From tester pots to lighting effects, I cover everything and I'm on hand to answer all your questions about wallpaper, paint and colour. Everyone is different and every room is different, but I'm a problem solver and I use my experience to personalise every project. A finished room is the product of many elements working in harmony – as a team, we'll bring it together.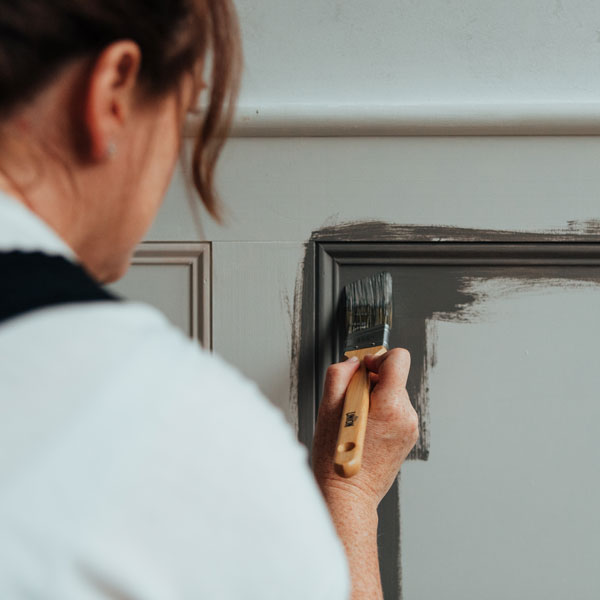 What customers say
"Ashley was brilliant, what a great experience from start to finish. Preparation, execution, ideas and the final product absolutely makes this house our home. Could not recommend Ashley highly enough"
"What a fantastic job Ashley has done redecorating our lounge, dining room and a bedroom, as well as bringing our fireplace, mantelpiece, and mirror back to life with a fresh new look, that complements our new colour scheme.  We are so pleased with every aspect of Ashley's work. From our initial meeting and discussions including great advice on colours, shades, suggestions, and ideas, through to a clear quotation and very tidy work.  Brilliant to work with, on time and to an absolutely first-class standard. We will be booking in again soon and have already recommended Ashley to family and friends." 
"Ashley's attention to detail is remarkable. She can eliminate the superfluous but add in the finer details with style and sophistication. The end result is incredibly beautiful, we have a calming, luxurious and simply stunning environment that we love to work in and our customers love to be in all thanks to Ashley and her genius mind."
"An amazing service from start to finish. After our initial consultation I received suggestions and ideas as to how best to complete the project. During the work, Ashley's high attention to detail gave superb results. It was an absolute pleasure to have her complete several projects for us and I wouldn't hesitate to recommend."
"I couldn't recommend Ashley enough. To start with, she was at all times polite, professional and on time which is invaluable to me when having any work done. Ashley made excellent suggestions on many aspects including colours to enhance and improve the vision I had and carried out the work to an impeccable standard. She was also able to source the paint which was helpful with an otherwise busy schedule. Most of all I could really tell that Ashley cared about the overall outcome and the finished project. I will certainly be approaching Ashley again for future decoration in our house." 
Thank you, Ashley, for translating our ideas into a beautiful reality. Your attention to detail and fantastic work ethic was much appreciated. We have no hesitation in recommending you!